Start up microbrewery is exciting work. Something that needs to concern every brewery especially if they are new is the information as experience always outshines compared to any new startup so the best way to tackle it is through information. However, even after having the information there are many major issues that are faced by startup micro/craft brewery. It is always better to know about these issues prior head so you are able to deal with them when they occur. Some of the issues are as follows:
If you're thinking of start up a microbrewery, now is the time to do it. The popularity and demand for beer is growing, making it an exciting and profitable business to get into. From microbreweries to cideries, distilleries and wineries, there's a brewery for every taste and budget.
First question, what is a microbrewery?
The microbrewery is a business that grows in tandem with its surrounding communities. Microbreweries often begin by selling to local stores, which subsequently sell to customers through tiny distributors. Growth regions for microbreweries are places like restaurant and beer store growth regions, as well as communities near colleges and universities. As our target consumer is more educated than the average beer drinker and is also more likely to choose "experiences" over traditional products, places with Millennial populations are also good markets for this type of business.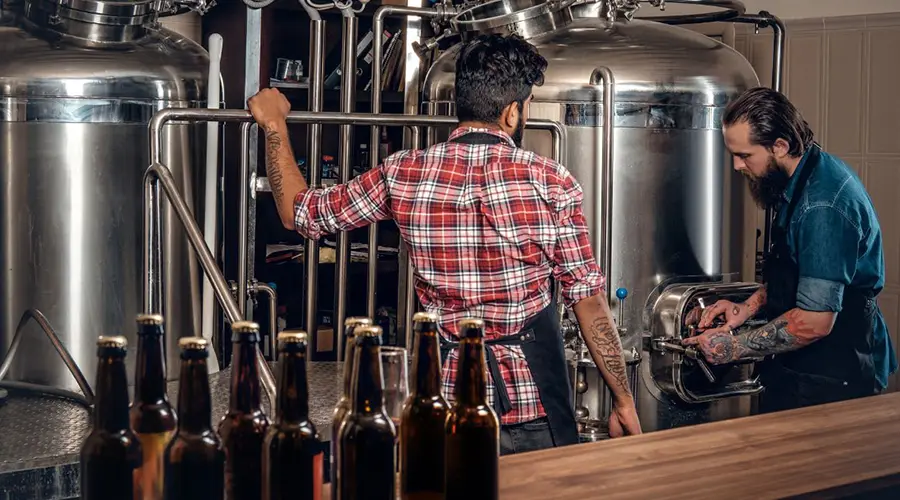 Things to know before starting a microbrewery business
Here are six essential things to do before you start a microbrewery business.
Microbrewery Business Plan
If you are determined enough, starting a brewery is quite simple. Finding the correct mix between having a strong strategy in place before you start and leaving yourself enough flexibility to adjust or pivot the plan as you go along is key. Choose a name that speaks to your business's brand identity and values. Protect your intellectual property with a trademark once you've decided on a name for your brewery or beer.
Your brewery name has a significant impact on how you are perceived in the market, whether it's a casual or upscale beer experience, so it's important to be strategic about choosing your moniker. You only get one chance to make a first impression, and potential customers won't remember you if they don't know who you are. Create an identity that stands out and is memorable with name brainstorming workshop.
Brewery Equipment Cost
The cost of launching a microbrewery, on the other hand, varies depending on the size of the brewery, output levels, and location. Microbreweries have substantial startup expenses compared to many other small enterprises. Dealing with unexpected fees and charges is one of the most difficult aspects of starting a brewery. Major expenses include licenses, rent and startup inventory. In comparison, brewery equipment such as kettles, boilers, kegs, cooling systems, storage tanks, fermentation tanks, and filters only cost around $100,000.
Throughout the startup phase, your spending will not be high as a microbrewery typically requires less equipment and space. You can produce 20 barrels per year and still have a good profit margin. Many of the operational expenditures of this business are changeable, depending on the area, the size of the company, and market fluctuations. The key expenditures will include paying for brewing ingredients (such as malt, yeast, and hops), utilities (such as power, gas, and sewage), and ongoing cleaning and repair charges, which will include frequently acquiring cleaning equipment.
When it comes to distribution, a microbrewery usually uses a three-tier structure. The brewer utilizes a distributor to sell alcohol to local pubs, grocery shops, liquor stores, and other businesses under a three-tier structure. Customers are subsequently sold to by these customer-facing companies. Microbrews are available year-round, and many brewers develop special seasonal offers.
Microbrewery Licenses and Permits
A Beer license is required to lawfully own and run a brewery or any other company that manufactures or sells alcohol. Because of the direct link between alcohol production and sales, you can expect to be subject to a slew of state rules and legislation. The alcohol sector is extensively regulated at both the federal and state levels, with state regulations having a lot of influence over how you may conduct your brewery.
You can apply for a limited license, which permits you to sell particular types or amounts of alcohol, or a complete license, depending on your manufacturing and serving needs. Make sure to look into the unique criteria for your brewery's location. Although each state has its unique set of rules for starting and running a brewery, there are certain essential duties and legal documentation that you'll need to get.
Start Up Microbrewery Location
Location is very important for microbreweries. It must be in a proper area with enough space for your operation and well-equipped to manage the special needs of alcoholic beverage production. You'll also need room to store beverages, run the company, and entertain artists, among other things.
When starting your own microbrewery, it's important to be mindful of the location. A good location for your microbrewery should have enough room for your beer production, as well as adequate parking and access to nearby markets. Locate near major highways or neighbourhoods that see a lot of foot traffic so customers can easily find it.
If you pick a structure that does not meet your demands, you will not be able to manage a profitable brewery. The most critical consideration, like with any company, is safety. Make sure the structure you pick will pass safety inspections and allow you to do business safely.
Brewery Brewing Consulting
If you are not a professional brewer and are considering making the transition from home brewing to nano brewery, it is a good idea to find a professional brewery consultant to help you through the first 30–90 days.
Microbrewery Distributors
You'll need to expand your distribution network in order to sell your product more and more as you expand. Once you start producing alcohol, a new three-tier system is put into place by the government. Producers are the first level, then wholesale merchants who then sell their wares to retailers, who in turn sell it to the end-consumer.
The beer business is built upon relationships, so consider the distribution firm you wish to work with and the terms of your deal. Most states have rules protecting the provider-distributor sales contract, think about your present and future needs before signing one. Your local brewing guild or association should be able to assist you in finding the appropriate distributor for your needs and brand.
In addition to being a small business, brewpubs play a significant role in the local economy as job creators and generators. The most important part of running a successful business is making sure you have the right team and partners by your side. A brewpub can be anywhere from 40 to hundreds of thousands of square feet in size, with the number of employees ranging from five or six people to almost 200. There are various options for getting started: buying an existing restaurant, building your own space or leasing existing space that was previously used as a different type of establishment (such as retail store).
Brewery Marketing
Marketing is crucial to any business and it's the part where you invite customers to try out your product. Marketing is the process of getting your brewery's products in front of customers and moving them to buy. It's also likely to be the single most costly aspect of running a small business.
Market research relates to deciding which areas could be your potential targets. It forms the foundation of an effective market strategy. Invest in digital ads as per the current trends, it works the best.
If you're looking to promote your company, social media is a great place to start. You can organize launch parties or just post updates about your products and new developments. You can also attract potential distributors and retailers by advertising and marketing your product on the internet. If you're selling your beers in stores, consider participating in local festivals that allow brewers to market their wares as well as participate in music, entertainment, or food events.
When starting a brewery, you can expect to spend a lot of time cutting costs and working hard. However, the rewards of running a successful brewery are enormous. Although beer has high-profit margins, with solid financial management and marketing savvy you can transform a competent brewery into an enterprise that thrives through tough economic times.
You're well on your way to making your idea a reality now that you know the basics of how to establish a brewery. There are several online resources and tools accessible to you, as well as many industry associations willing to share their knowledge and experiences. Starting your brewery may be both thrilling and intimidating at the same time, especially if you're new to the craft beer market. However, you have the basis for long-term growth if you have well-thought-out and documented strategies, procedures, and reporting in place.