When you are ready to open your own brewery, the layout of the brewery is very important.How to effectively use space to make equipment look organized and beautiful, this will be a wonderful journey for your business. A brewery floor plan that works best for you can ensure that the construction of the brewery goes smoothly, cause you need to plan, design and ultimately build the brewery.
So, how to design your brewery layout? We can note the following points:
Preparations for setting up the brewery
What should be paid attention to in the design of the floor plan of the brewery?
Factors to consider in a brewery floor plan
Cost savings
Preparations for setting up the brewery
There are a lot of things you need to consider before you start experimenting with designs. First, you need to have an in-depth knowledge of the brewery to know what preparations to do before starting a brewery, and of course, you will get more information. Make sure you have adequate funding, a good time frame for work, and a contractor with experience building a brewery. The construction of a brewery, like any construction project, will always have unforeseen costs. Surly you also need to consider your space and viable development arrangements.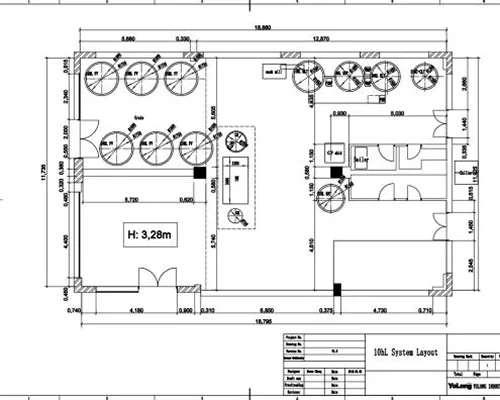 What should be paid attention to when designing a brewery floor plan?
The layout of a brewery is important to ensure safe and efficient operation.
The brewery setup should take into account that materials and goods should enter through the back door of the brewery to ensure that customers entering from the entrance do not hinder work efficiency. Which can also benefits customers to have a pleasant experience while dining. Efficient entry layout of raw materials and goods can directly affect productivity, production cost, and improve the team spirit of employees.
Factors to consider in a brewery floor plan
Where to introduce slopes so that your drainage system can operate efficiently
Water supply
Power supply
Grain bucket
Packaging and labeling area
When building a brewery, it is important to planning ahead. This includes preparing the site to ensure equipment can be moved during installation. From the use of forklifts and pallet trucks during raw material storage, to each area so that products in packaging can move freely. If your brewery layout doesn't make sense for these activity, you may need to redo your . You can consult the brewery layout and design here.
Brewery setup depends on the style of equipment and scale of the brewery. In order to reduce energy costs and increase efficiency, Iyou should place your equipment as close as possible. Shortening the distance between different procecess, which can reduces the amount of pumping required and helps prevent unexpected flavors in the beer quality.
Before opening a craft brewery, you need to consider many factors, such as brewing technology and brewery equipment costs. Once you find a brewery location that meets code requirements and is properly zoned, you may apply for the permit from your local authority.
For us, however, Micet Group can considered these issues from the manufacturer's perspectiv ; when you choose to work with us, Micet Group is happy to help you with your brewery design layout. We can provide helpful advice based on our experience helping brewers open their own breweries.
Cost savings
When preparing to build a brewery, you can save on general brewery costs by taking a number of measures when designing your production facility. Fundamentally, the benefits of well-planned brewery design and process management are cumulative, keep reducing costs over time.
A well-designed brewing facility will be more energy efficient and reduce your brewing costs for a long-term. During the construction phase of the brewery, you can install solar panels to heat the water used in the brewing process.
A prerequisite for getting benefit from a brewery layout and design is that you know what your goals are and what your ideal brewery looks like. You can talk to the like-minded brewers to learn about their brewing experience. They have their own breweries, and nothing is more helpful to your new brewery than learning about their experiences firsthand, learn from their mistakes and suggestions and refine your plans directly.
Beer Brewing Consulting
If you are not a professional brewer and you are considering transitioning from home brewing to a nano brewery, it is a good idea to have a professional brewing consultant to help you during the first 30-90 days.
Brewery consultants will:
Help expand your recipes
Understand how the nano-brewing system works
Convince potential clients that you are on the right track
Be your most trusted "brewery problem solver" partner
Make your commercial brewery a reality in the near future
If you want to start your own brewing business. Micet Group has been working on Micro Beer and Beverage projects since 2008 and we can help you start your from scratch . Check out our Professional Brewing Consulting Services.