As a professional brewing equipment manufacturer, research and exploration of global market investment is essential. From the original Sumerian beer to today's craft beer, beer has become the world's most popular alcoholic beverage. With the continuous improvement and innovation of raw materials, brewing process, stability, properties and flavors, the consumer market has also evolved into an imaginative competition around "End Demand".
In the beer market, demand changes play a key role in future industry dynamics. We have learned from our conversations with past partners that there is growing investor interest in studying consumer behavior from a marketing perspective, especially in craft and premium beer. Craft brewery's regional end-consumption research is mainly reflected in the age, gender and lifestyle of consumers. Among other personal factors, beer engagement, brand familiarity, and frequency of consumption plays an important role. Furthermore, Spending power and occasion are relevant segmentation variables. Research on consumer behavior is a key factor in the competitive differentiation of beer companies. We will focus on one topic–consumer psychology, in order to help investors and partners better manage breweries.
This article mainly analyzes and discusses consumer behavior and business strategies based on the current beer market situation.
1. Market Overview
What do you think of the current beer market? Since the beginning of 2022, the continued spread of the coronavirus pandemic has caused the economies of various countries and regions in the world to suffer from varying degrees of impact and changes. The impact on the beer market can be seen from the soaring prices of domestically produced or imported products out. Many microbreweries, hotels and leisure venues have closed due to government incentives and supply chain, infrastructure and other factors. News reports say Caledonian is Edinburgh's last major brewery and its infrastructure is not up to the standards of modern production, and achieving sustainability will require significant ongoing investment, including government support.
Leominster's Swan Brewery in the UK said in January it was closing due to the economic impact of Covid. The company is a husband & wife team run by Jimmy Swan and Gill Bullock, who have been brewing beer for local pubs, clubs, festivals and retailers for six years.
Asked by the BBC what had brought this on, Ms Bullock said it was "that combination of Covid, costs and consumer confidence".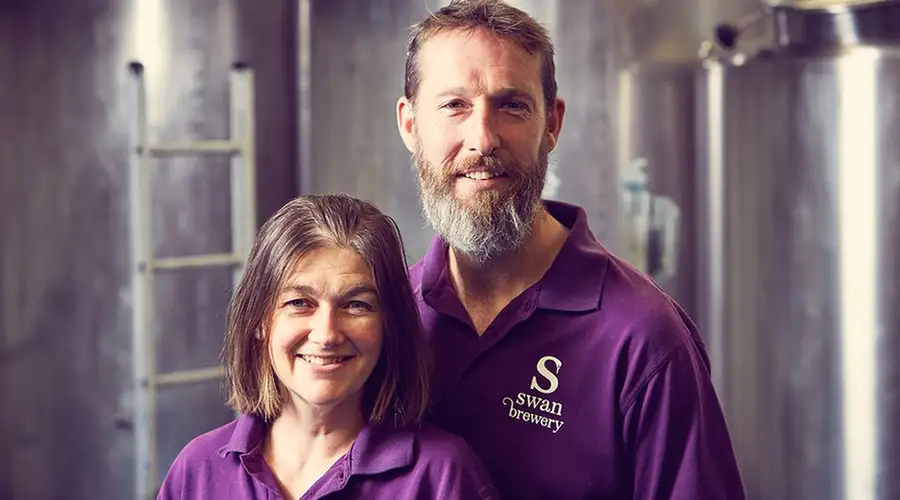 Gill Bullock and Jimmy Swan will be closing the business
Our research found that, in addition to force majeure factors causing pressure on the industry, the global beer market has continued to grow in recent months. It also depends on the differences in consumption cognition of age groups, for example, many young people prefer to consume at home to a large extent. Consumers are demanding more variety and novelty, which has spurred the growth of regional and craft brewers.
In the medium term, changing lifestyles, increasing consumption of alcoholic beverages, rapid urbanization, high disposable income, and the popularity of beer among young people are several factors driving the global beer market.
The introduction of new ingredients and innovative flavors into craft beer, combined with a business model that influences the minds of consumers, will increase its appeal among the global millennial demographic. As craft beer grows in popularity, millennials in particular will have a growing preference for "diversified" beer will increase.
2. Analysis of Consumer Behaviour on the Beer Market
2.1 Consumer Psychology and Brand Influence
Whether it is a small-scale brewery just starting out or an experienced commercial brewing stage, there should be enough leadership and entrepreneurial spirit. Build collaborations within the brewery, shape products and services, brand reputation, and focus where output is more productive – building your brand.
The cognition of consumers' psychological accounts makes brands unique. Consumers are more judgmental about the value of beer than about the price of beer. According to research by Walker Information Inc. ( Walker: Customers 2020: A Progress Report ), in 2020 consumer experience has moved beyond price and product to become a core element of brand differentiation. Shaping the experience brings five advantages to breweries: product differentiation, new competitiveness, customer loyalty, word of mouth, and customer satisfaction.
IKEA CASE

Discover the life you want to live. When visiting IKEA, we will see model rooms of various design styles, and the experience of each room brings people the joy of discovery and inspiration and happiness for the future.

The IKEA experience certainly doesn't stop there. For example, for the elderly in the surrounding communities, IKEA has delicious and cheap breakfast, and can easily take children to spend a while of parent-child time. For lovers, IKEA brings them infinite yearning to build a nest of future love. For children, IKEA has their own dream "bunk" children's bed, as well as delicious Swedish meatballs. Beer and household items are both intuitive experiences. Consumers can hold beer in a bar to chat with friends, or lie on the sofa at home to enjoy the World Cup game.
We consulted past partners and their feedback that most breweries will build a brand image in the regional competition [ is there more passion? ], which will make the brewery less focused on strengthening the ability of supply, and is to increase demand.
2.2 Brand Equity
How do consumer behaviors differ across age groups? For comparison, the different age groups were divided into X and Y generations. Generation X, those born in the turn of the 1960s and 1970s, are highly loyal to brands; Millennials, it seems, are the opposite; born in the last two decades of the 20th century, both have some spending power.
| | |
| --- | --- |
| | |
| | |
| | The Coldest Tasting Beer In The World |
| | Heineken refreshes the parts other beers cannot reach. |
| | Be yourself and make it a Bud Light. |
| | Corona. Miles Away From Ordinary. |
| | Pilsner Urquell. The world's first golden beer. |
| | The most natural thing in the world. |
| | Carlsberg. Probably the best beer in the world. |
Brand equity includes four dimensions. Initially, brand awareness was an important aspect as people tended to make decisions based on what they were familiar with and were heavily influenced by well-known brands in the evaluation of their decisions. Research shows that only mentioning a specific brand among people increases the likelihood of a purchase.
Secondly, perceived quality provides reasons for purchase, distinguishes brands, attracts customers' interest, is the basis for raising prices, and improves customer satisfaction in the actual use process. Perceived quality appears to be important for both generations. Gen Xers are known to stay loyal until brands let them down, and millennials are also very sensitive to brand failures, which can lead to loss of trust and patronage.
In the third case, a brand association (image) is anything about the brand in the mind of the customer and is closely related to brand management, mainly in terms of identifying and developing specific associations. All characteristics of brand equity have a positive impact on beer consumer behavior. The higher the beer brand equity, the higher the willingness to buy and the higher the willingness to pay a premium for a particular brand.
Table 2. Beer Criteria Preference According to the Age Groups
The final asset of brand equity is brand loyalty, and Table 2 shows the key role of brand in beer choice across two generations. 81.5% of Gen Xers and 72% of Millennials consider brand more important than price when choosing a beer.
All four dimensions contribute to brand loyalty because they increase customer satisfaction and provide a reason to buy a product.
2.3 Characteristics of the Beer Market
The beer market is known to be "the world's largest selling alcoholic beverage". Beer is the most consumed alcoholic beverage compared to wine, spirits and other alcoholic beverages. Looking back to 2007, Global beer consumption is worth around 112 billion euros. The beer industry used to be dominated by local breweries, but over the last century it has become international and has grown from a domestic market to a global market industry. The process of internationalization has continued to the present, and the concentration of the beer market, i.e. "the extent to which a few companies provide a major part of the industry's total output", is greatly affected by mergers or shake-ups between specific beer companies, ultimately, the microbrewery is out.
The beer market can often be described as an oligopolistic market, as a few dominant companies hold large market shares and create huge barriers to entry. Therefore, one may doubt the nature of the beer market in terms of competitiveness. Production is concentrated in the hands of a few large breweries, and horizontal mergers result in a highly concentrated market. Also, when companies acquire suppliers and retailers, a fairly high level of vertical integration occurs, resulting in very similar product mixes. The competition isn't about price, it's about advertising, promotions, style, and more. Barriers to entry are high because large breweries have built and experienced customer loyalty. Finally, beer companies tend to diversify into other industries such as dining or leisure to expand their strategic options.
Beer markets can be specified from product and geographic dimensions. The ease of substitution between products (beer brands) is determined, products in the same market are close substitutes, while products outside the market are very imperfect substitutes in the internal market, product-market substitution depends on product characteristics such as alcohol content and Type of beer (lager, premium, stout, etc). From a beer geographic perspective, the beer market is generally considered to be geographically national. Popular types of beer are relatively large worldwide.
Beer consumption is influenced by a variety of factors: consumer demand for beer is influenced by specific beer prices, alternative and supplement prices, consumer income and product characteristics. The likelihood of becoming addicted to beer also has an impact on demand. Many studies have shown that demand for beer is a good indicator of price changes and that consumer incomes have relatively little impact on demand. When demographics are considered, men tend to drink beer more than women, and 18-44 year olds are more likely to find beer popular than those 45+. Generally speaking, beer is often drunk among a group of friends or other social groups who like to drink the same style of beer. This is likely to influence individual preferences and cause peer effects. Furthermore, consumption depends not only on the individual himself, but also on the social context in which the product is consumed, especially by whom. As a result, consumers may change preferences due to human contact with friends, peers, family members or others. In terms of preferences and their potential changes, beer is an interesting example. Experience and past consumption are very important aspects here, as consumers' psychological choices determine preferences along with others' consumption behavior and availability. Interesting research, conducted with international students, showed that the most important reasons for changes in beer consumption habits were taste change (29%), peer influence (24%), availability (31%), price (10%) and others (6 %).
3. Market Opportunities and Future Trends
3.1 Cognition of the Beer Industry
The brewing industry has been facing important challenges such as changing consumer trends, and has turned these challenges into opportunities through innovation and the development of alternative products. Beer is popular all over the world and has a deep historical origin; beer in moderation is healthy; it is a social, enjoyable, refreshing, democratic drink whose appeal is enduring and universal.
Nowadays, we are witnessing changes in drinking patterns in many regions. Beer audience is getting younger. Micet Group marketing campaigns do not target individuals below the legal drinking age. cause we recognize that very young people are indeed a vulnerable group. We believe responsible consumption of beer can be part of an active lifestyle; informed consumers are responsible for their actions; the beer industry has a responsibility to inform consumers about the benefits of moderate consumption and the risks of unsafe consumption; Work with governments and public health organizations to work on effective self-regulation, promote accountability at the company and global level of the brewer's representative organization.
Questions & Answers
In an optimistic scenario, what is the growth of the new segment as a possible reaction to the "megatrend"?
M: We have seen in mature markets that the beers launched in certain market segments are very characteristic; for small breweries in special regions, we have launched the Small Batch System and Micro Craft System, and we hope that more breweries can learn about our beer equipment.
How do you see the future of product and production research in our beer equipment industry?
M: Product health and environmental protection in the brewing equipment industry are very important; we must keep hygienic, and we must take the lead in the industry in terms of environmental protection and social responsibility.
10 years ago, our industry research was process-oriented, today it is more about starting from the end of consumption; facing the future, we must be responsible and recognize the importance of in-depth cooperation with global breweries.
Shouldn't the beer industry stay away from health claims?
M: There are real dangers here, and the Micet Group is calling on brewers to make clear health claims and tout the benefits of moderate beer consumption.
3.2 Ways to Stay Competitive in the Beer Industry
The sales share of craft beer is increasingly occupying the beer market. The market potential for craft breweries is growing, but as the number of operating breweries increases, so does the number of speciality segment breweries.
Here are some questions:
How long does it take for the competitive area to prove its worth?
How many craft breweries can the competitive area support?
How to stay competitive?
There are signs that the craft beer industry has yet to peak, while the market potential continues to grow. With the addition of new breweries and "planned breweries," every brewery owner should consider preparing for staying competitive.
Here are 5 Ways Craft Brewers can Stay Competitive:
① High-quality Raw Materials, High-quality Beer
The main goal of any brewery is to focus on producing high quality beer. Quality beer is a key success factor. With so many beer drinkers already turning to craft beer, it's easy for consumers to make the decision to try any style and taste of beer, which benefits the craft beer industry as a whole.
As consumers are exposed to more craft beers, breweries gain more insight into their beer choices, leading to opportunities for consumer loyalty. Of course, beer connoisseurs are also becoming more aware of quality, and the most important thing a craft brewery can do is keep producing quality beer to stay competitive. As the variety of craft beers on the market increases, low-quality craft beers will be eliminated first.
② Manage Quality – Maintain Consistency
Manage your brewery production schedule and focus on consistency. If each experience is different, consumers may discover risks associated with your beer. The risk could lead consumers to switch to competitors that can give them a similar "experience", even if the experience isn't that great. Consistency has always been the key to every successful business. Provide consumers with a consistent quality experience.
③ Plan Ahead
Make sure you plan ahead and keep up with demand. Gaining consumer loyalty can be a long process, but it only takes one single bad experience or one missed opportunity to break that trust. If your loyal consumers don't have access to their favorite beer, they'll accept alternatives, resulting in your loss and others' gain.
Although consumers prefer to try new beers, which provides an opportunity for new product launches, meanwhile it can be a disadvantage if you can't keep up with demand. Breweries can prevent missed opportunities by ensuring that their main beers are readily available in their most loyal markets. Consumers are inherently loyal, but that doesn't mean they'll be forever loyal to your beer.
④ Sell Better and Smarter
Whether you have a person in charge of sales or a sales team that handles orders, consumers want to know what's going on in a brewery. In the mobile age, the ability to get real-time orders from a tablet or mobile device is now a huge benefit–the ability to view a customer's order history, view reports, inventory, invoices and delivery notes, and more, allows salespeople to keep track of customer service outperform competitors. By tracking and managing sales opportunities, forecasting drives raw material demand planning and future production planning is smarter planning when finding new customers. Being able to do this, seamlessly integrated into the production floor, means the distillery will be constantly amazed.
⑤ Manage Your Growth
Finally, you should effectively manage the growth of your brewery. The most common reason the first four points are compromised is the inability to manage growth. As craft breweries grow, it becomes increasingly difficult to produce consistent, high-quality, differentiated beers that meet demand. Managing growth and the complexity that comes with it can ensure consumer retention and help your brewery stay competitive. Managing growth is not easy and requires operational expertise and systematic procedures. If this is done by individuals or patchwork systems, your competitive advantage may be at risk.
To achieve these goals, you're going to need some help; Spreadsheets and bookkeeping software can't provide that kind of help in the long run. Achieving these goals is not easy or guarantees your success, but they will provide a strong edge over the competition and help you stay ahead. You need a powerful brewery management solution that will provide everything you need to manage every aspect of your brewery. You need a brewery software/hardware solution that streamlines processes, eliminates inefficiencies and focuses only on what you do best: brewing great beer.
No matter the size of your craft brewery, Micet Group brewery solutions will help your company streamline processes for maximum growth and efficiency. Building your brewery with multiple systems often causes problems. Building on the right foundation is critical to Managing scalable future growth.
4. Innovation for Everyone
Beer has a wonderful past and a bright future, and our industry has an opportunity to convince consumers of the health benefits of drinking beer in moderation and its contribution to a healthy lifestyle.