Kombucha is a tasty fermented drink that, much like beer, is fermented to achieve its final flavor profile. However, it is important to note that kombucha differs significantly from beer in its ingredients and brewing process.
Have you ever been curious about how to make your own kombucha? Today, we'll provide you with an insider's perspective from a seasoned kombucha brewer, including a detailed kombucha recipe and instructions for the brewing process. If you're interested in pursuing kombucha brewing yourself, or if you're looking to invest in top-quality kombucha brewing equipment, don't hesitate to reach out to Micet Group for expert guidance and support. Learn more about Fermenters & Bright Tanks.
Premium Craft Kombucha
Overview of the production process steps for making Finished Kombucha :
1. Creating Kombucha: Starter Tea
Step process:Starter Liquid+Tea, Sugar, scoby, filtered water
Process time:1-2days
2.Fermenting your starter tea
Step process:Fermentation of Starter Tea at 25-28°C
Process time:4-6 weeks
3. The art of komnicha: Blending
Step process: Starter Liquid+Manna-K 5%,Tea, Sugar, Filtered Water, Juices, Extracts etc
Process time: 1-3days
4. Kombucha packaging process
Step process: Finished Liquid-Chill & Carbonate-Bottle or Keg
Process time: 1-2days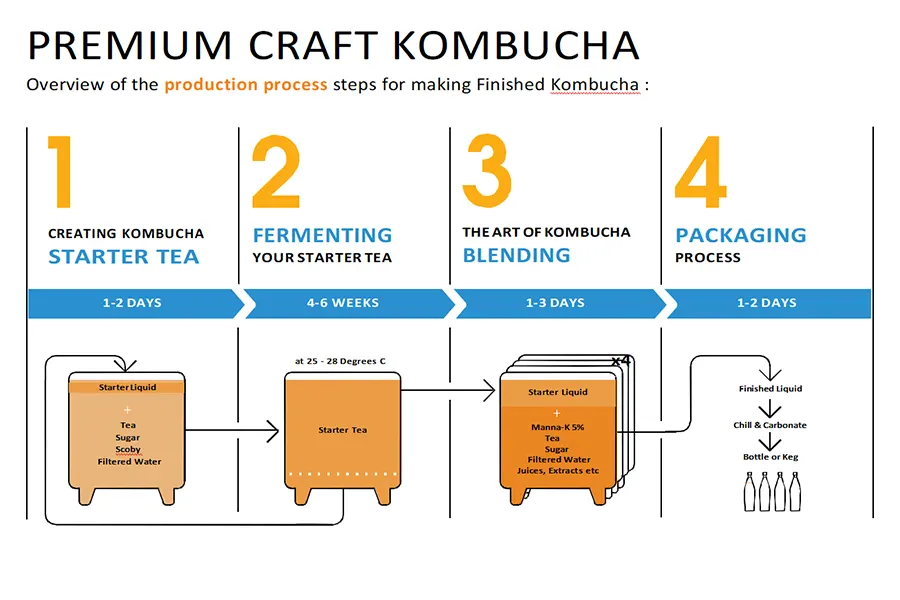 Recipe
Producing a high-quality batch of our Premium Craft Kombucha Recipe requires the use of Brewing Starter Tea as a key ingredient. This young and dynamic Starter Tea introduces a vibrant yeast profile to your finished product, which can add a wonderful depth of flavor.
Recipe for 1000 Litres of Starter Tea
Ingredients
10 kg of Sencha Green Tea (goal: 10 g/L)
250 Litres of Hot Water forInfusion
60 kg of Organic Sugar (goal: 6 – 6.5 Brix or 60g/L)
Water added in at the end, to reach a total volume of 900L
100 Litres of Starter Tea Liquid (goal: 10% of the totalvolume)
Optionally 1% SCOBY
Notice:
Starter culture contains high levels of yeast, bacteria, and alcohol, which can be beneficial for producing delicious home-brewed kombucha. However, when it comes to commercial kombucha production at scale, this combination can present certain challenges. This is precisely why we employ a combination of Starter Tea and Manna-K in our commercial operations.
Tips:
Do not overfill the tea bag, give the leaves some space for a better infusion. Consider the leaves will expand by 10 times their dry volume.
Use bag-cut tea leaves for an efficient infusion.
We use a standard kombucha starter with 2.85 – 3.15 pH.
Use a recipe sheet to keep track of what you are doing, and to track changes. Most importantly, log your pH and Brix values to compare and improve your recipes as they evolve.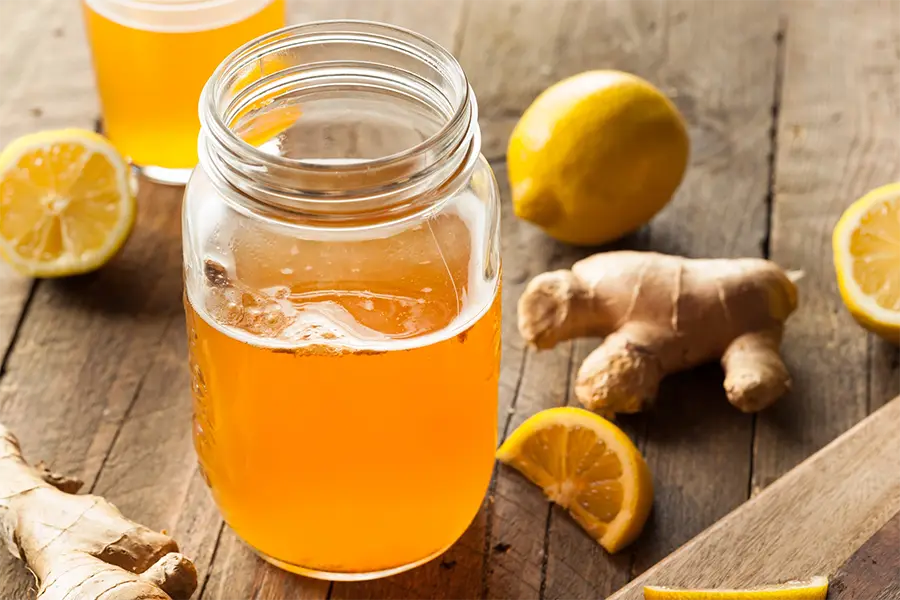 This particular production approach is geared towards individuals who own and run their own breweries. If you're looking for top-notch Kombucha Brewing Equipment, Micet Group can help you with the entire process, from design to fabrication and installation.
Micet Group Kombucha Brewery Features:
Energy efficient
Easy to operate
Minimal maintenance required – even over extended period
Accessible deck platform height with ergonomic surface
Easy installation on skids
Adapts to expansion with modular components
1 or 2 vessel systems available
Choice of production capacities (according to size of premises)
Agitation mixer optional
Processes
1. Obtaining your first scoby and starter
If you order 1 liter of starter, it typically takes around 2 weeks to produce enough kombucha for 10 times that amount. To get started, you would add tea, sugar, and water to the starter and ferment the mixture for 2 weeks to obtain 10 liters of kombucha. From there, you can repeat the process for another 2 weeks to obtain 100 liters, and then you'll be ready to make your first 1000 liters.
2. Infusing the tea
Step 1: Add 10 kilograms of tea to the mixing tank, followed by 150 liters of 85℃ hot water.
Step 2: Recirculate the hot tea liquid with a pump for 30-45 minutes.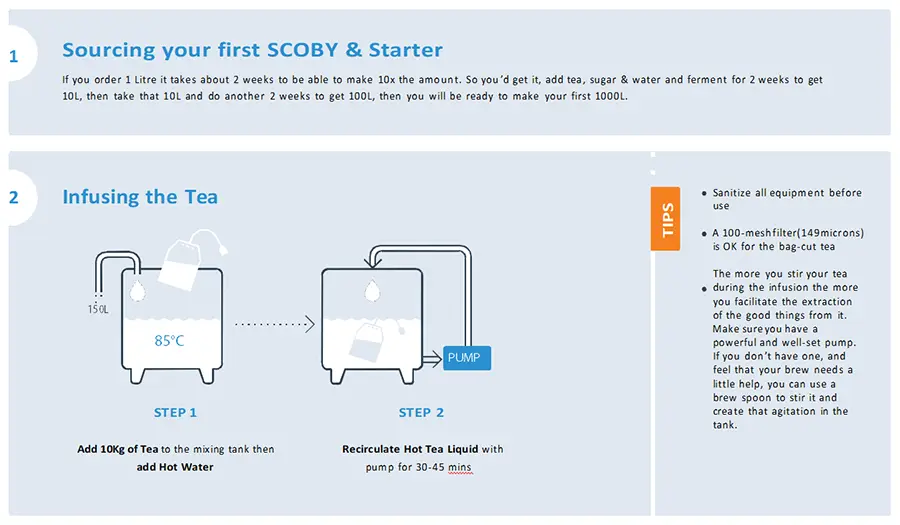 3. Mixing sugar into your hot tea infusion
Step1: Pump Hot Tea Infusion to Mixing Tank while passing through a Strainer + Basket Filter 100 Mesh/149 Micron.
Step2: Add in the Sugar and mix for 10 mins until all solids are dissolved.
TIPS:
Sanitize all equipment before use.
A 100-mesh filter (149 microns) is OK for the bag-cut tea.
The more you stir your tea during the infusion the more you facilitate the extraction of the good things from it. Make sure you have a powerful and well-set pump. If you don't have one, and feel that your brew needs a little help, you can use a brew spoon to stir it and create that agitation in the tank.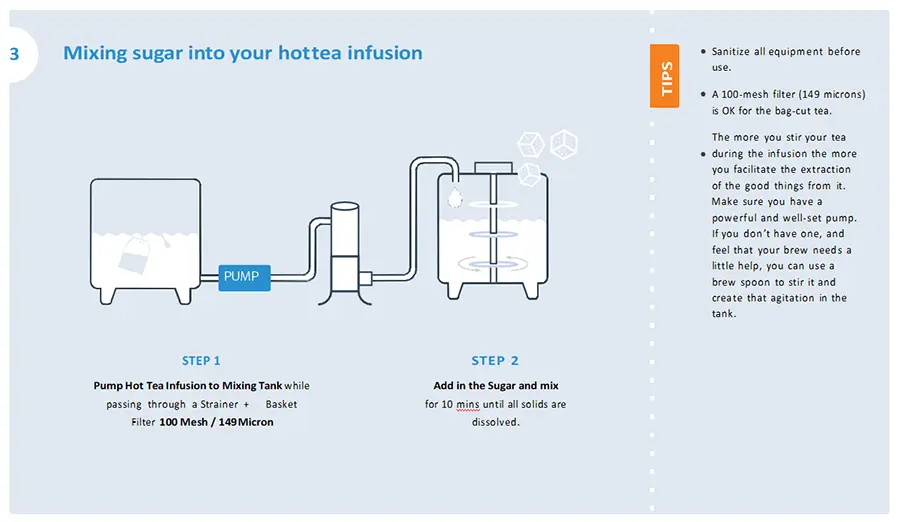 4. Adding starter & scoby to the tea infusion
Step1: Add Cold Water to the Tea Infusion until it is up to 900L.
Step2: When the liquid is less 28 Degrees Celsius you can add in the Starter Liquid & SCOBY.
TIPS:
You have to make sure your sweet tea is under 28°C before adding starter or you can kill the starter culture.
Keep the mixer going throughout the whole process.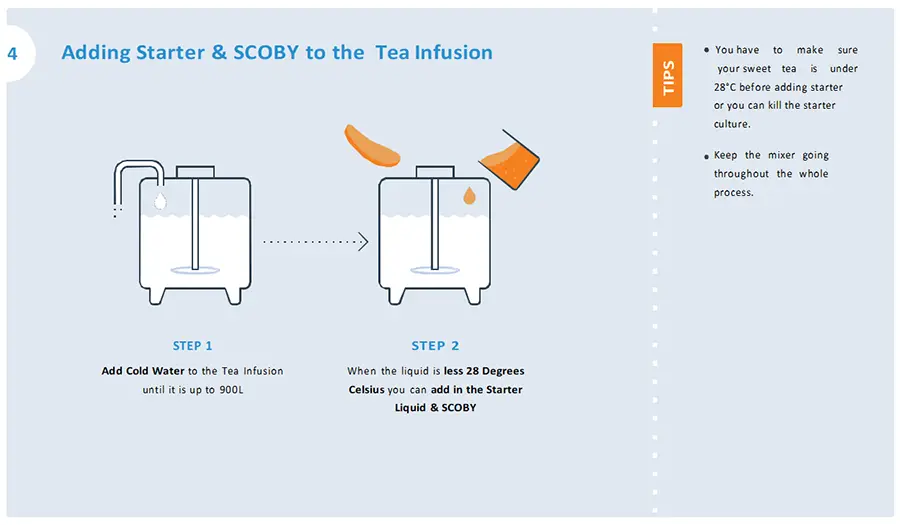 5. Transfer inoculated sweet tea to your fermenter
Step1: Pump Liquid to Mixing Tank while passing through a Strainer + Basket Filter 100 Mesh / 149 Micron.
Step2: Place your fermenter into a heated fermentation room with strong fan ventilation at 25-28 ℃ for 4 to 6 weeks.
6. Blending and packaging