In recent years, the craft beer market has exploded, with breweries popping up everywhere. How to start a microbrewery? There are many things you need to consider when starting a successful microbrewery. This article will show in full how to start a craft brewery.
Writing a Brewery Business Plan
A business plan is one of the most important steps in starting any business. Not only is it a road map to guide you in starting your business, but it is also crucial in securing funding from investors.
Determining the Cost of Starting a Brewery
Due to the wide variety of breweries, the cost of opening your own brewery can vary.
Brewery Equipment Costs: The amount you pay for brewing equipment depends on the size of your brewery and whether you are buying new or used equipment.
Furniture cost: Depending on the style and level of quality you are looking for in your brewery, the price. Prices for dining room furniture can range from as low as $4,000 to as high as $15,000.
Rent: When you decide on retail space to run your brewery, consider how much space you will need. Allowing enough space for your utilities and brewing equipment is critical. Rents are determined by the space and can range from $10 to $30.
Securing Funding for the Brewery
The amount of capital needed to start a microbrewery startup varies based on several factors, but the absolute least is around $250,000. The average cost of opening a brewery depends on many factors, which vary with your idea, location, needs, and preferences. A critical step in opening a brewery is obtaining funding. While you may have savings, it is still possible that you will need to seek more funds. Consider the following options for reference:
Self-financed
Investors
Loans
crowdfunding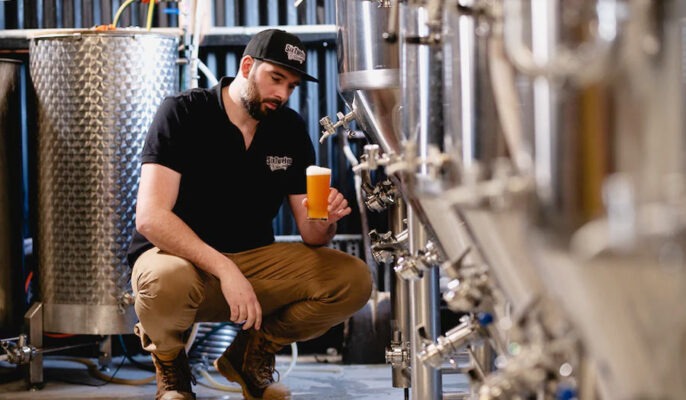 Choose a Brewery Location
Choosing a location for your brewery is a major investment. Thus, you must consider a variety of factors to make the best decision for you and your brewery's future.
Zoning: Your brewery location will be determined by your local government's zoning regulations. In most cases, breweries can only be located in designated industrial areas.
Brewery Requirements: If the building you choose doesn't fit your needs, you won't be able to run a successful brewery.
Safety precautions: The most important consideration is safety. Make sure the building you choose will pass security inspections and allow you to carry out your day-to-day operations .
Get experience
Know your market and know your competitors. As friendly as your fellow winemakers are, they're still your competition. Setting up a new craft brewery is a daunting task, especially if you have not brewed before. If you've never worked in a brewery or have no direct experience, it's worth working with a brewery to gain some industry experience.
Buy Brewery Equipment
A critical step in starting a new brewery is investing in the right equipment.
Beer Brewing Equipment: Invest in fermenters, boiling equipment, and brewing kettles to ensure you're ready to start brewing.
Beer Packaging Supplies: used bottling and packaging supplies range from equipment such as filling machines to simple packaging products such as labels and beverage shippers.
Refrigeration Equipment: Depending on the size of your brewery, your refrigeration equipment can range from countertop bottle coolers to walk-in refrigerators.
Keg Storage: Purchasing keg storage products will ensure the safe and efficient transport of kegs throughout the brewery.
Promote your brewery
Before opening a new brewery, must to advertise your new business to gain visibility. Depending on your location, you have the opportunity to take part in the Oktoberfest.